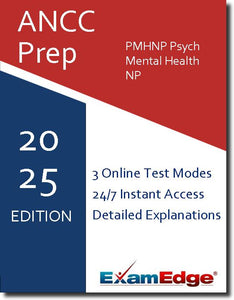 ANCC Psychiatric-Mental Health Nurse Practitioner (Across the Lifespan) - Online Practice Tests
The ANCC Psychiatric-Mental Health Nurse Practitioner exam was designed to measure the skills, knowledge, and talents of aspiring nurses. Developed by the American Nurses Credentialing Center, the test helps ensure that only the most qualified professionals work with patients. The ANCC PMHNP is considered the gold standard for mental health nurse practitioners, and a passing score is frequently required by employers in this field.

The ANCC® Psychiatric-Mental Health Nurse Practitioner (Across the Lifespan) (PMHNP) exam was developed to measure the knowledge, skills and experience of aspiring healthcare workers. This 175 question exam covers topics including the foundations of science, advanced practice skills, diagnosis and treatment, psychotherapy and ethical and legal principles. To ensure you earn a passing score, take time to review these content areas and take a practice test or two. It's the best way to determine how you'd fare if the exam were tomorrow.


Once you have completed a practice exam, you will have permanent access to that exam's review page, which includes a detailed explanation for each practice question!
Our practice tests simulate the real thing in a number of key ways:

Topics covered

Scientific Foundation - 22%
Advanced Practice Skills - 27%
Diagnosis and Treatment - 22%
Psychotherapy and Related Theories - 11%
Ethical and Legal Principles - 17%

Level of difficulty
Navigation
The feel of the real test
To pass the ANCC Psychiatric-Mental Health Nurse Practitioner (Across the Lifespan) test you need a score of 350.
Here are five reason you should use our exams to prepare for your ANCC Psychiatric-Mental Health Nurse Practitioner (Across the Lifespan) - Online Practice Tests certification exam:
Because the tests are web-based, there is no software to install. Our practice tests are available to you anytime at you convenience. No matter where you are, you can take our practice tests on any computer or smartphone with access to the internet

Once you complete a practice exam, you will be provided with how many questions you answered correctly, as well as our estimate of your score on the real exam. We also provide explanations on why the answer is correct.

Our practice tests are designed to have a similar look-and-feel of the real test. The number of questions and even the default time limit for each practice exam are just like the real thing. This way, when you take the actual test, you will already be completely familiar with its navigation and behavior.

If you have to stop while taking one of our tests, you can continue right where you left off. When you continue the test, you will start exactly where you were, and with the same amount of time you had remaining

As an "A" rated, fully accredited member of the Better Business Bureau, we uphold the highest level of business standards.
What is the ANCC PMHNP Like? What to Expect?
The ANCC PMHNP features 175 multiple choice questions to be answered during a three-and-a-half-hour testing period. Approximately 20 percent of questions center around scientific foundations. Another 25 percent of the test focuses on advanced practice skills. An additional 25 percent of questions ask about diagnosis and treatment, while the remainder of the test includes items on psychotherapy, ethics, and legal principles. The PMHNP test requires profound understanding and synthesis of these critical topics.
The ANCC PMHNP is a computer-based exam. Because of this, turnaround times for scoring are fairly quick. Within four weeks of taking the test, you'll have your results. If you pass, you'll be mailed a certificate and pin signifying your new qualifications. If you fail, however, you'll have the opportunity to retake the exam after 60 days. Examinees may only take the test three times a year, though, so it's vital you make each attempt count.
Why is Taking the ANCC PMHNP Test Important?
Mental health nurses are incredibly in demand. Because only the most qualified professionals are hired for these roles, it's imperative to beef up your resume before applying for such positions. Qualifications like the ANCC PMHNP illustrate your commitment to your career and your patients. They also demonstrate your understanding of key policies, practices, and procedures.
ANCC PMHNP questions are designed to be challenging. The test helps ensure that only the very best candidates become certified. For many mental health nurses, this certification is only the beginning. By taking and passing the ANCC PMHNP exam, candidates set themselves up for a long, successful career. In many cases, the test is the foundation for reaching new professional heights.
How to Prepare for the ANCC PMHNP Exam?
Preparing for the ANCC PMHNP can be a challenge. With the right tools, however, studying for this important exam doesn't have to be stressful.
One of the best ways to prepare is by taking practice tests. ANCC PMHNP practice questions allow you to familiarize yourself with the content of the exam without any of the pressure of a test-taking setting. Quizzing yourself with these practice questions also gives you much-needed insight into the way items are structured. When you come across similar questions on the real test, you'll feel confident in your ability to answer correctly.
As you prepare for your ANCC PMHNP exam, it's essential to keep the big picture in mind. Research repeatedly shows that practice testing is one of the most effective exam preparation strategies available. If you're eager to learn how to pass the ANCC PMHNP, begin your preparation efforts with a practice exam. You'll get experience with the test's structure, pacing and format while also identifying content area blind spots you didn't know you had. Incorporate regular practice testing into your test prep schedule, and you're sure to earn a passing score.