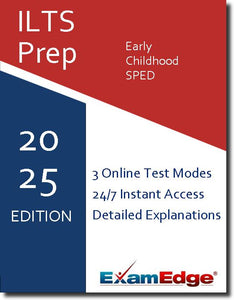 ILTS Early Childhood Special Education - Online Practice Tests
ILTS Early Childhood Special Education (152)
The Illinois Licensure Testing System was created to help qualify new teachers for professional practice. Their exams are often required of new educators first starting their careers in Illinois. The ILTS 152 is just one of the many tests offered by this professional organization. It was specifically developed to measure the skills and knowledge of aspiring early childhood teachers who wish to focus on special education.
School districts frequently rely on scores from groups like the ILTS to decide which candidates to hire. A person's performance on the ILTS 152 can be a solid indicator of how successful they will be in the classroom.
Once you have completed a practice exam, you will have permanent access to that exam's review page, which includes a detailed explanation for each practice question!
Our practice tests simulate the real thing in a number of key ways:

Topics covered

Foundations and Characteristics
Assessing Students and Developing Individualized Programs
Planning and Delivering Instructional Content
Managing the Learning Environment and Promoting Students' Social Interaction Skills
Maintaining Effective Communication, Collaboration, and Professionalism

Level of difficulty
Number of questions (125 per practice test)
Timed exam, proportional to the number of questions (or untimed if you prefer)
Navigation
The feel of the real test
To pass the ILTS Early Childhood Special Education test you need a score of 240.
Here are five reason you should use our exams to prepare for your ILTS Early Childhood Special Education - Online Practice Tests certification exam:
Because the tests are web-based, there is no software to install. Our practice tests are available to you anytime at you convenience. No matter where you are, you can take our practice tests on any computer or smartphone with access to the internet

Once you complete a practice exam, you will be provided with how many questions you answered correctly, as well as our estimate of your score on the real exam. We also provide explanations on why the answer is correct.

Our practice tests are designed to have a similar look-and-feel of the real test. The number of questions and even the default time limit for each practice exam are just like the real thing. This way, when you take the actual test, you will already be completely familiar with its navigation and behavior.

If you have to stop while taking one of our tests, you can continue right where you left off. When you continue the test, you will start exactly where you were, and with the same amount of time you had remaining

As an "A" rated, fully accredited member of the Better Business Bureau, we uphold the highest level of business standards.
What is the ILTS 152 like? What to Expect?
The ILTS 152 is a computer-based, multiple-choice exam. Over the course of a four-hour testing window, examinees must answer 125 questions in the hopes of earning a passing score of 240 points or more.
The ILTS 52 covers a wide range of foundational knowledge and skills that all early childhood educators should know. This includes everything from the development of individualized student programs to the management of social growth and student collaboration. As such, the ILTS 152 is a calculated measure of classroom knowledge and one's ability to implement it in an educational setting.
Anyone feeling unsure about their ability to pass this exam should consider adding ILTS 152 practice tests to their study routine. They're a surefire way to boost your score and build the confidence you need to pass on your first attempt.
Why is Taking the ILTS 152 Test Important?
Illinois teachers must take and pass the ILTS 152 if they hope to work with special education students in public elementary schools. It's a requirement for earning your teacher's license in Illinois.
While it's possible to work with private school students without first earning your license, taking and passing this exam will open up many more opportunities for teachers. Licensure sends a clear message to employers that you're both qualified and capable of a teaching position in Illinois public schools.
Of course, it's important to be prepared before registering for the exam. Not everyone can simply sign up and pass the test on their first try. By prioritizing ILTS special education practice exams in the weeks leading up to the test, you can ensure your very best performance on the actual exam.
How to Prepare for the ILTS 152 Exam?
There are several exam preparation strategies and tools to employ in the lead-up to your ILTS 152 test. Research shows that practice testing is one of the most effective uses of your time. By practicing with ILTS Early Childhood Special Education (152) questions, you'll train your brain to retrieve information quickly and consistently. Strengthening this mental muscle pays off in a big way on test day. If you haven't already done so, try taking an ILTS 152 practice test to gauge how you'd do if the exam were happening today.
With your results in hand, use the detailed answer explanations to craft the ultimate ILTS early childhood special education study guide. The practice test will reveal any content areas that warrant further attention and confirm which material you've already mastered. This allows you to create a study routine that's both effective and efficient.
Teachers are among the most well-respected professionals across the world. Don't let an exam get in the way of your dreams of becoming an educator. Get started with an ILTS 152 practice test now!