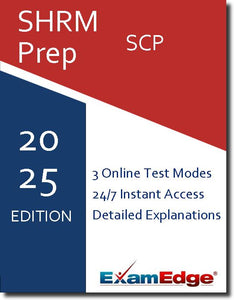 SHRM Senior Certified Professional - Online Practice Tests
Human resources professionals help make the world go round. While they might not always get the glory they deserve, human resources workers provide vital services to businesses large and small. If you're considering a career in human resources, it pays to do your homework. Though the barrier of entry to this line of work is relatively low, there are certain training and certification requirements to meet. The Society for Human Resource Management, or SHRM, is one of the largest professional organizations in the world, and their mandates and educational requirements are frequently used throughout the industry. They offer a number of certification exams, including the SHRM SCP test. Not to be undertaken on a whim, this challenging exam demands plenty of SHRM SCP practice tests before registration!
Once you have completed a practice exam, you will have permanent access to that exam's review page, which includes a detailed explanation for each practice question!
Our practice tests simulate the real thing in a number of key ways:

Topics covered

Leadership - 13%
Business - 18.5%
Interpersonal - 18.5%
People - 17%
Organization - 17%
Workplace - 16%

Level of difficulty
Navigation
The feel of the real test
To pass the SHRM Senior Certified Professional test you need a score of .
Here are five reason you should use our exams to prepare for your SHRM Senior Certified Professional - Online Practice Tests certification exam:
Because the tests are web-based, there is no software to install. Our practice tests are available to you anytime at you convenience. No matter where you are, you can take our practice tests on any computer or smartphone with access to the internet

Once you complete a practice exam, you will be provided with how many questions you answered correctly, as well as our estimate of your score on the real exam. We also provide explanations on why the answer is correct.

Our practice tests are designed to have a similar look-and-feel of the real test. The number of questions and even the default time limit for each practice exam are just like the real thing. This way, when you take the actual test, you will already be completely familiar with its navigation and behavior.

If you have to stop while taking one of our tests, you can continue right where you left off. When you continue the test, you will start exactly where you were, and with the same amount of time you had remaining

As an "A" rated, fully accredited member of the Better Business Bureau, we uphold the highest level of business standards.
What is the SHRM SCP Exam?
One of the many certification tests offered by the SHRM, the Senior Certified Professional, or SCP exam helps qualify human resource professionals for the next level of their career. Comprised of 160 multiple choice questions to be answered in the span of four hours, the SHRM SCP exam challenges examinees on their knowledge of behavioral competencies for both strategic and operational roles. In order to pass this test, you'll need to score a 200 or higher. SHRM SCP exam practice exams can help you prepare ahead of the real thing and ensure you pass on your very first attempt.
Who Should Take the SHRM SCP Exam?
Only certain human resources professionals are eligible for this exam. To meet the eligibility requirements, you must have a master's degree and at least three years of experience in human resources. If your master's isn't in human resources, you'll need at least four years of work experience in human resources. Of course, those with bachelor's degrees are also eligible for the SHRM SCP exam. If your degree is in human resources, four years in a human resources role are required. If your degree isn't in human resources, you'll need five years of human resources experience.
Even those without advanced degrees can take the SHRM SCP exam. Those without a master's or bachelor's must have at least six years of human resources experience to qualify. Regardless of your education and work experience, you'll want to brush up on the exam content and format during your SHRM SCP exam prep to ensure you perform to the best of your abilities.
How Much is Registration for the SHRM SCP Exam?
Registration for the SHRM SCP exam doesn't come cheap. Members of SHRM can expect to pay around $300 for registration, while non-members must pay $400. This cost includes a $50 nonrefundable application fee. While registration for such an expensive exam may be hard to stomach at first, human resources professionals can expect to gain more respect in the workplace after earning this certification. A passing score may even lead to a raise or promotion, so it's well worth your time to invest in as much SHRM SCP test prep as possible!
Preparing for the SHRM SCP Exam
There are many ways to prepare for the SHRM SCP exam. Note taking, flash cards, and study groups can all make the test prep process a little easier. For the best use of your time, though, consider taking a few SHRM SCP exam practice tests. Studies show that practice testing is one of the best forms of study, leading to more effective retention of important facts and figures. Try one of our sample SHRM SCP practice tests today and see just how helpful our resources can be!